Pasture Raised Chicken
Whole broilers (usually between 3.5 and 6.0 pounds--that's a big chicken!) or pre-cut leg/thigh quarters, breasts, tenders, and wings; and packaged soup sets (backs), necks, livers, hearts, gizzards, and feet— yes, feet, for the best stock flavor and consistency known to man— are available now in the freezer section of the NOMAD Farms Log Cabin Store. Come see what we have and know that more is always on the way! We are set up to accept cash, checks, and credit cards. See the 2023 Price Chart at the bottom of this page for current pricing.
Drop by the NOMAD Farms Log Cabin Store anytime to see what is in stock.-->
Grass-fed Beef
Cows eat salad! We are currently stocked with beef by the cut (see link to price list below) in the NOMAD Farms Log Cabin Store. Bulk beef is ready for pick-up in the late fall, sold by weight with discount pricing for high volume. Some families go in together with others for whole or half sides. The cow will go to a local professional butcher and come to you nicely wrapped. You may indicate a preference for certain cuts and packaging portions. Limited quantities are sold first come, first served. We are now accepting 2023 bulk beef reservations for delivery in late fall, '23. Send us an email to indicate your interest in a quarter, half side, or whole cow, and we will contact you regarding availability and timing.
A footnote. Some people will tell you that grass fed beef is tougher than grain fed. Not true. Grass fed beef is leaner than fatty grocery store stuff and should be cooked differently—slowly on lower heat—to keep it from drying out. This is apples and oranges, folks, and you have to adjust your preparation to complement the meat!
Pigs in Natural Habitat
This started as our son, Bowen's, exclusive enterprise. He carefully selected piglets for the original herd and handled the intricacies of heritage breeding for future generations of NOMAD Farms pigs. At this time, we raise Red Wattle hogs exclusively. Daily chores revolve around keeping these precocious pigs well fed and happy in an environment as close to "wild" as a pig could dream of having! Drop by the NOMAD Farms Log Cabin Store to pick up fresh cuts of pork sold by the pound. Pricing is available here. We accept end-of-season orders for whole and half pigs sold by weight. Your share will be ready for butcher and pick up in the late fall.
Fresh-forage Lamb
We raise our small flock of Katahdin sheep on rotating pastures. The result is a succulent lamb chop that is healthy and lean, raised to the highest ethical standards. All cuts of lamb are intermittently available in the NOMAD Farms Log Cabin Store, sold by the pound.

Pasture Raised Turkey
2023 Turkeys are now on sale!
Cared for from day one by farm campers and grown all summer to be processed and sold fresh for Thanksgiving, these birds will be the pride of your holiday table. Typically, they are much larger than butterballs so that certain leftovers become a winter storage of clean sandwich meat. 2023 price is $8.25/lb (no change from last year).  Our turkeys sell out by pre-order with a $75 deposit, balance due when you chose your bird at pick-up. Find a link below to our Turkey Reservation Info Letter and to reserve your 2023 turkey.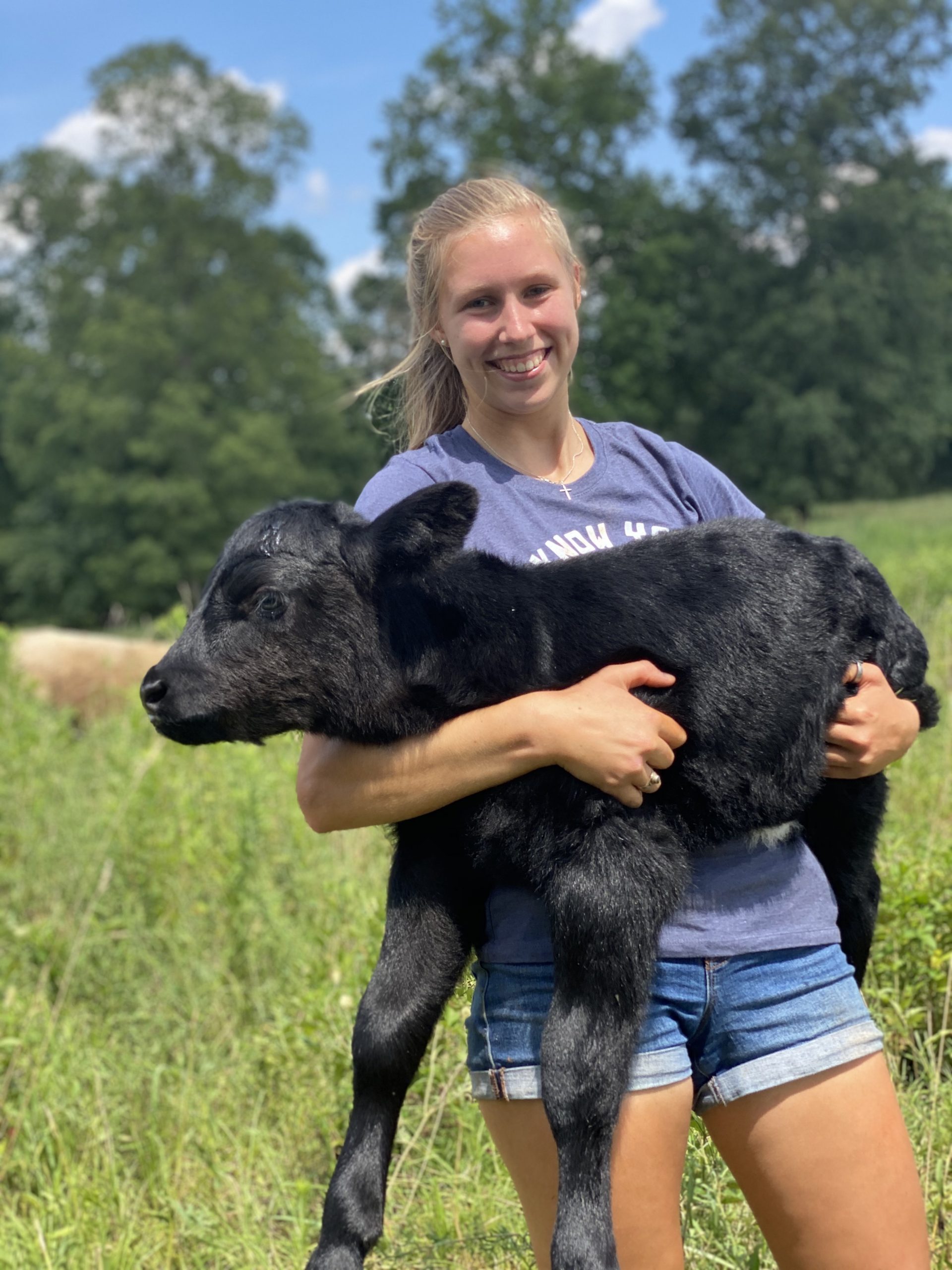 Educational Farm Tours
See our What's Happening page for a description of our enthusiastic, fun-filled, laid back, and informative NOMAD Farm tours! Contact us to schedule a group or custom tour any time! Great for kids and exceptionally eye-opening for adults who have ever questioned slippery labeling like "cage-free," "organic," or "access to outdoors"— what does it all mean, and at the bottom line, IS IT HEALTHY? IS IT GOOD FOR ME TO EAT? That, Friends, is a critical question. Come and find out what the most important labeling distinctives really are and why what we offer is different. For the time we invest in preparing for and giving a tour, we require $6 per person with a $70 minimum. We will do smaller tours if you prefer privacy, but the minimum is $70. Infants free. School groups and clubs welcome.
Full 2023 Cuts/Price List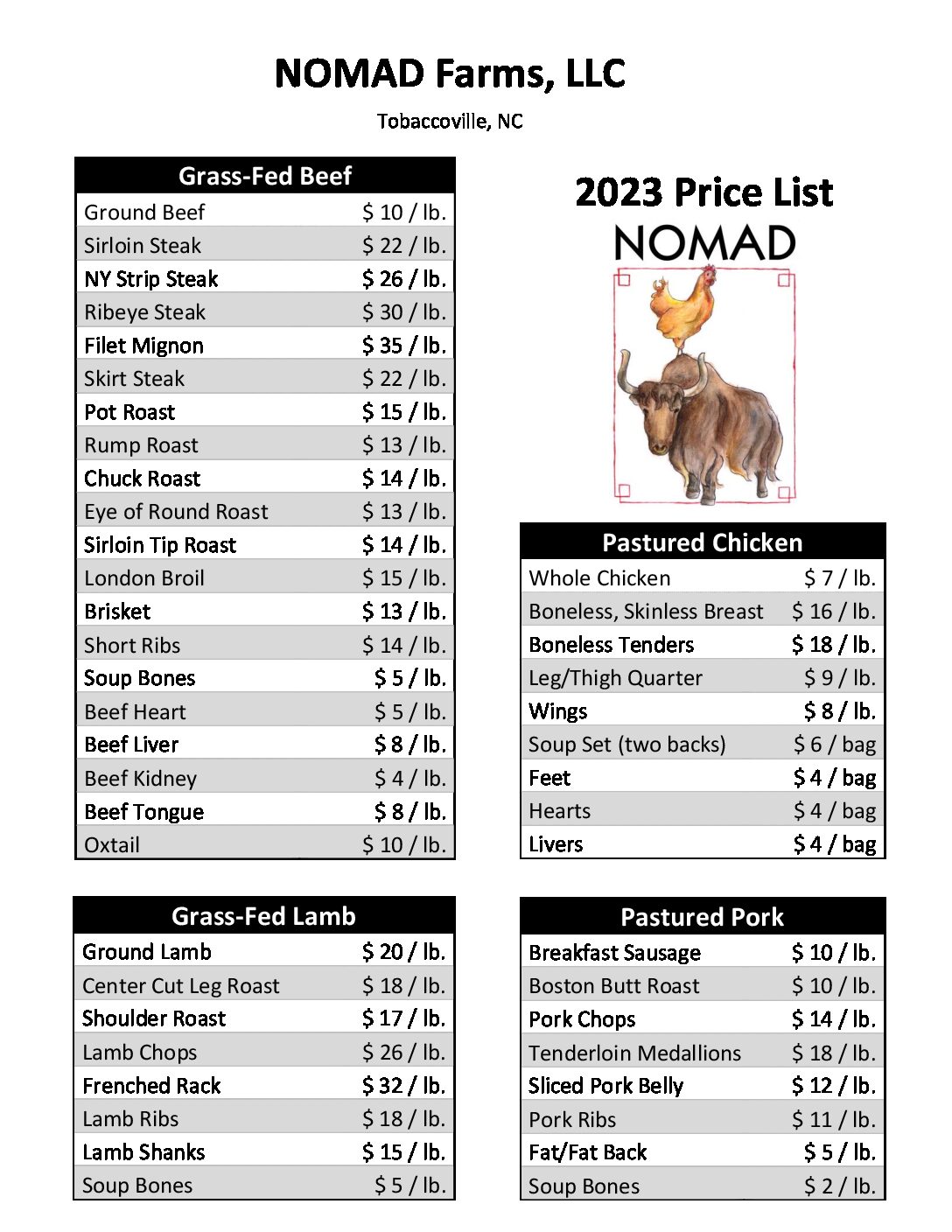 Pasture Raised Turkey
Our 2023 Thanksgiving Turkeys will be sold by pre-reservation. Deposits are now being accepted. Read the info letter (below left) first! Then select your turkey option on the right.