What's Happening Around NOMAD
---
2019 is off with a bang and we are gearing up to provide the Triad and beyond with the very best in pasture-raised beef, chicken, lamb, pork, turkey and more!
---
NOMAD Farms Summer Camp, 2019! UPDATE: both sessions full, counselors still needed
Careful work. Content animals, Clean food. #nofilterfood #nofilterfarmcamp #nomadfarmssummercamp
Come prepared to work hard, play hard, take care of and enjoy the land and livestock! Learn how NOMAD Farms and nature work together to produce clean food. Become friends with the animals (feed/water and assist in pasture rotation). Tend to the farm garden. Practice sustainability. Plant seeds, make compost, care for plants and trees, protect from predators. Appreciate farm-inspired art and storytelling. Explore wilderness. Play good, old-fashioned games. Learn daily character building themes. Keep a field journal and bring your intellect to the challenge. Explore the wonder of God's creation and understand your role in the stewardship of it.
For more info or to download our camper registration form, click here (link removed)
Interested in volunteering as a camp counselor? Sign up here.
We can't wait to see you at NOMAD Farms Summer Camp!
Session 1: July 15 - 19, 2019
Session 2: August 5 - 9, 2019
The Log Cabin Store is Stocked
---
Drop by the farm (you can SEE downtown WS from our barn--we're close!) to see what's in stock in the Log Cabin Farm Store. Our goal is to keep a steady offering of chicken, beef, pork, lamb, rabbit and eggs available from day to day. Seasonally we will also offer some veggies and various other products Call ahead or
email us
if you are looking for something specific to make sure we are not temporarily sold out before you come. We are open every day except Sunday--just call ahead to make sure someone is around to serve you (336-816-9830 [Mark] or 336-816-9831 [Dana]).
Free delivery AND a free chicken?!?
That's right. Just order 10 chickens (buy 10 yourself or get some neighbors, friends, or coworkers to go in together) and we will not only bring your order to you anywhere in the greater Winston area, but we will give you the 11th chicken for free as a thank you for your order. We'll bring the birds to your house, and you can distribute them to your neighbors when you see them.
Our educational farm tours have become popular, and we are giving several a week right now. No wonder! People want to know where their food comes from, and they love our open door, no-section-off-limits farm policy. Pick up a baby chick and feel the down becoming feathers. Walk among the pigs and ask why there is no stink. Find out why we call our farm NOMAD, and why everything moves around. Learn about dominion, symbiosis, biodiversity and eco-responsibility. People are so interested in connecting to the land, knowing their farmer, relaxing in the meadows with a picnic, walking among the animals and learning why we do things the way we do them...and we love to share it.
These tours are a fantasy world for kids and exceptionally eye-opening for those who have ever questioned slippery labeling like "cage free," "organic," or "access to outdoors"--what does it all mean, and at the bottom line, IS IT HEALTHY? IS IT GOOD FOR ME TO EAT? That, Friends, is the real question. Come and find out what it all means, and what the most important labeling distinctives truly are.
"The usual" on tours is this: We do the tours on demand, meaning they can be scheduled any time we can find a common slot in our schedules to set one up. We are hoping to have at least 12 folks (infants free) to get a tour initiated, so if you have friends, school or church folks...and oftentimes we will add people from the community who want to jump in on one already scheduled. They generally start at 10:00 am (which gives us some time to get a few farm chores done beforehand) but can be scheduled for earlier or later depending on your preference. They usually last about an hour and a quarter and are customized to the interest level of your group—might go a little longer or shorter according to your desires. Most folks then bring a picnic lunch and sit in the grass under the trees when it is over and enjoy a meal.
Topics vary—we go from station to station to look at and discuss the unorthodox techniques we employ in order to get the healthy and responsible results we do as new-concept farmers. Kids will enjoy seeing and holding young animals and learning about how our food is raised and where it comes from. Adults will enjoy a little discussion of the food industry and the terminology that confuses us and what it all means, along with a little biology, ecology, sociology and theology peppered in to the conversation. We aim to please, and it's a blast for all ages. As one of my favorite farmers likes to say about these tours, epiphanies are commonplace.
We are suggesting a $5 per person donation for our time on these educational tours.
Farming is not known to be a money-making venture, and we are asking you to be a part of helping us turn that around for future generations. After all, if your doctor drives a Porche, why can't the people who grow healthy food for you make enough to see a movie on a Saturday night? In addition to this small donation, please buy a couple of chickens, bring in some compost for the garden, or some recycled grocery store bags for us to be able to reuse them at markets and in the farm store. This is a collective effort. You'll feel an inward "yes" for being a part of it.
Call or email us to schedule a group or personal farm tour. Church and school groups are welcome, and the more the merrier--we can accommodate large numbers! See our Facebook page for tons of fun tour pictures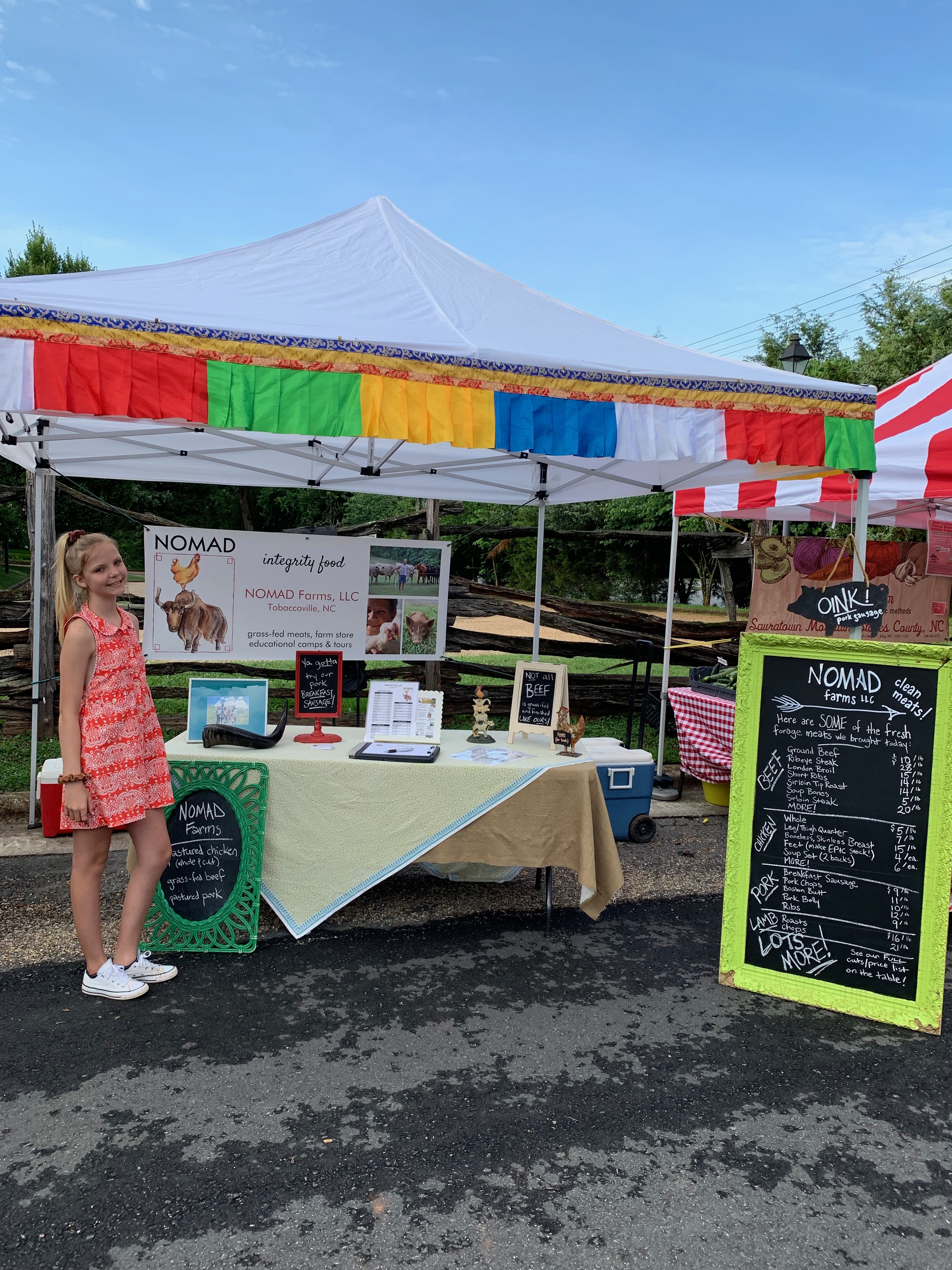 Farmer's Market
---
Drop by Old Salem for one of North Carolina's BEST farmers markets, right here in the Triad--we're lucky, folks! 9 to 12 every Saturday morning.
NOMAD Saturdays
NOMAD Saturdays are the time to come by the farm, pick up any frozen stock or pre-ordered packages, and see what else is available. Check this website for updates on which Saturdays will have scheduled events. In coming months we will have live music, fresh apple cider, hay rides and cool educational opportunities. Consider hosting tent parties, picnics, or church events on our one hundred acres.
Go ahead and stake your claim on meat products via email orders (see Offerings).